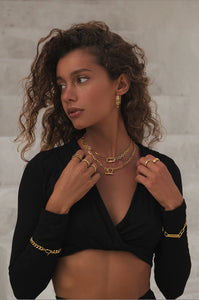 OUR PROMISE
Unique & irresistible designs.
Premium quality materials.
Water & Sweat-proof.
No Fade. No Rust.
Customer Service
Poor customer service, I was told my product would arrive beginning of June, and did not get my product till July. They don't ship packages until end of the month of purchase but I purchased in the beginning of may so when they failed to get me the purchase before July I was quite disappointed. I reached out to customer service via email, and was left with snappy email replies. Throughout the process I was left in the dark about when my package would arrive. They implied I didn't read the emails, which I did and the fall through was on their part. They must have forgotten about my order. I paid about 10 dollars for shipping to get an items over 2 months later. I'm all for supporting small business, but their items aren't cheap, don't arrive on time, and their customer service was poor. Wouldn't order from here again. Two stars because the package did eventually arrive.
good
i reached out for a refund but no one responded
Awesome
If you need a code use promo code tina_mariesmiles for 30% off. ❤️
Adorable Bracelet
I love this bracelet! Despite the off-putting name, this is NOT a trashy piece. It is an adorable good quality piece of jewelry. However, note that mine did not come with a certificate of authenticity or an extension for extra length :( while I like the bracelet, it certainly makes me question the promises of the company.