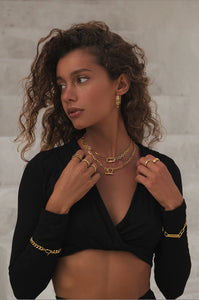 OUR PROMISE
Unique & irresistible designs.
Premium quality materials.
Water & Sweat-proof.
No Fade. No Rust.
Figaro bracelet /gold/ VIP
Great
Lovely bracelet reallybpleased withvthe quality and design
Absolutely beautiful
I absolutely love every single piece slide jewels send me, I can't wait to see what else you guys send me I'm delighted!! Can't wait to wear this beautiful bracelet out!
Nice
The bracelet was really good quality but it did not have an extender which I found quite annoying. I love the colour, it was strong and vibrant and did not look cheap and tacky ❤
Lush piece of jewellery
Absolutely gorgeous bracelet, fits me perfectly, and is anti-tarnish so I don't have to take it off to shower or swim!!